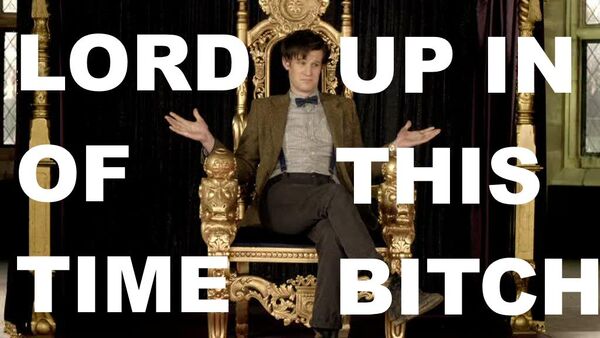 Summary
A mad man with a box that defeats any being of any nature, any day of the week.
Powers and Stats
Tier: 2-A | 0 | Ocean Tier | CAN DESTROY ANY BEING, NON-BEING, EVERYTHING, NOTHING, CAN DESTROY BEINGS BEYOND TIERS AND CONCEPTS INCLUDING NON TIERS AND NON CONCEPTS.
Name: The Doctor
Origin: Doctor Who
Gender: Male
Age: At least 2100 years old, billions chronologically.
Classification: Time Lord
Powers and Abilities: Time Manipulation, Wank Manipulation, Weather Manipulation, Plot Manipulation, Swag Manipulation, Jelly Baby Manipulation
Attack Potency: Multiverse level+ (Made the laws of time his ) | True Infinity (Is the most powerful person in his universe) | Oceanic (Soloed fiction and look how many fucks he gave) |
Speed: Faster than you will be, or anyone/anything ever will be because he can be anywhere he wants to be and nowhere
Lifting Strength: The Doctor doesn't need to lift because, things just obey him without him needing to think it
Striking Strength: Is irrelevant because he's so swag, once you glaze upon his might, you've already been struck down
Durability: Can't even be hurt by anything so having durability irrelevant
Stamina: Has always been running and running and running and running (Basically irrelevant)
Range: Anywhere and everywhere
Standard Equipment: Whovians, stronk plot armour, The fastest ship ever (TARDIS), sonic screwdriver (plot device)
Intelligence: Omniscient (Knows everything and is clever)
Weaknesses: Is beyond the beyondness of weaknesses
Feats:
The whole of history of every verse and more, conquered
See doctor who show, still unstoppable
Notable Attacks/Techniques:
The Oncoming Storm: Casts a storm over the planet that really messes up your day.
Key: Base Wank | Extended Wank | Mega Wank | With any prep
Others
Notable Victories:
Donald Trump (As you can see here, he can break down walls made of materials 400x stronger than diamond)
Twilight (Soloed the verse)
Notable Losses:
Inconclusive Matches:
Community content is available under
CC-BY-SA
unless otherwise noted.