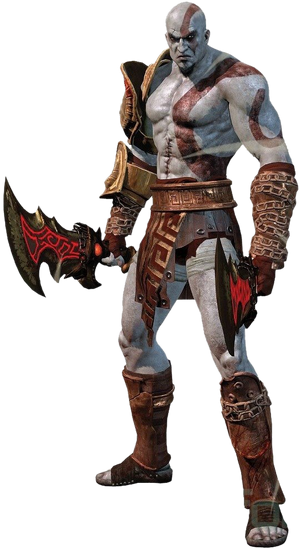 Born and raised in the ranks of the violent Spartans, Kratos became a respected general in his ranks but had to beg the God of War, Ares, during a battle with the Barbarians to avoid the Spartans' defeat. Ares listened to Kratos and bounded a pair of curved, chained blades to his forearms to physically represent Kratos' servitude to the god of war. This, however, ended as Ares tricked Kratos into slaughtering his own wife and daughter. After having the white ashes of his deceased family bound to his skin, Kratos headed out and sought revenge against his former master.
And then, all of a sudden.. HE'S 9-C!?! WHAT KIND OF DOWNGRADE IS THIS!?!?!?!!?!?!?!?!!1!?!!???1?!?!1!!!1?1!!!
Powers and StatsEdit
Tier: 9-C
Name: Kratos, known by many titles such as The Ghost of Sparta, White Warrior, The God of War, The Servant of Ares, The Champion of Ares, The Slave of the Gods, The Fist of Ares, The Marked Warrior, Oathbreaker, The Slayer of Gods, Destroyer of Worlds, Champion of the Gods, Sinker of Atlantis, Slayer of Ares, Killer of Argos, Cursed Mortal, Fallen God, Murderer of Gaia, Murderer of Children, Son of Zeus, Godslayer
Origin: God of War
Gender: Male
Age: Unknown
Classification: Spartan, Demigod, God of War and Death, Godslayer, Former Spartan General, An Unnessecary Downgrade
Powers and Abilities: Peak Human, Magic, Weapon Mastery
Attack Potency: Street level (His weapons seem comparable to regular blades, and its implied that he can't destroy a door on his own)
Speed: Peak Human
Lifting Strength: Peak Human (Able to lift grown men, I guess..)
Striking Strength: Street Class
Durability: Street level (Can be harmed by regular arrows. We swear, his greatest durability feats were all outlier!)
Stamina: High
Range: Extended melee range to several dozen meters, possibly several hundred meters with magic
The Blades of Chaos: Kratos' weapons, forged in the foulest depths of Hades. Once attached the blades remained so, chained and seared to the flesh, a part of the bearer's body. A permanent reminder of Kratos' pledge.
Amulet of Uroborus: An Amulet that was stolen from the Oracle Alethia. This gem has the power to manipulate time in numerous ways, from decaying or rebuilding different structures, to even slowing down time.
Oath Stone of Orkus: A stone gifted to Kratos by Orkus. This grants Kratos the ability to summon a dark clone of himself with orange markings, which works in unison with Kratos during combat.
Eyes of Truth: A pair of eyes that once belonged to the Orachle Alethia. Kratos can use these eyes to dispel any illusions.
Gauntlet of Zeus: A gauntlet used as a tool against the Titans, Kratos can use this to deal devastating damage to his opponents.
Sun Shield: A shield that was used by the sun god Helios, Kratos can use this shield to reflect incoming attacks.
Triton's Lance: An artifact that was in the Caves of Olympus, it gives the wielder the ability to breathe underwater without any repercussions
Blade of Artemis: A massive blade gifted to Kratos by Artemis during his quest to defeat Ares.
Blades of Athena: A pair of chain blades which was gifted to Kratos by Athena after he lost the Blades of Chaos in his fight against Ares.
Arms of Sparda: Kratos' main form of weaponry back when he was a general of the spartan army.
Eye of Atlantis: An item Kratos recieved that gifted him the power to strike his foes with lightning.
Barbarian Hammer: A mighty hammer that was once wielded by Alrik, until Kratos took it from him. This slow, yet mighty weapon has the ability to summon a cursed soul to do Kratos' bidding.
Spear of Destiny: A lance that was once wielded by the Dark Rider, until Kratos killed him and took it from his dead griffin. It has explosive properties on top of being able to extend and retract.
Blade of Olympus: One of Kratos' most powerful weapons. It was wielded by Zeus at one point to defeat the titans, and it wields the power to kill the immortal gods
Typhon's Bane: a magical bow that Kratos recieved after ripping it out from Typhon's eye, which has the ability to fire wind instead of normal arrows.
Head of Euryale: A head of the Immortal gorgon Euryale, this deadly object can turn anything it gazes upon into stone, even gorgons themselves.
Amulet of Fates: An Amulet that grants Kratos the ability to slow down time around his vicinity.
Golden Fleece: A golden armlet that grants Kratos the ability to reflect attacks back at the sender.
Icarus Wings: A pair of wings that Kratos ripped from Icarus himself. It grants him the ability to fly.
Blades of Exile: A new set of chain blades that Athena gifted to Kratos after falling into the underworld. It has the ability to summon a ghostly group of spartans to damage anyone near Kratos.
Claws of Hades: Claws that were once wielded by Hades. Kratos can summon souls on top of being able to rip souls out of someone.
Nemean Cestus: A giant pair of gauntlets that were once worn by Hercules until Kratos ripped them out of his hands. They can create massive shockwaves upon impact.
Nemesis Whip: A pair of claw chains that were built by Hephaestus. Kratos can project electricity with these weapons.
Bow of Apollo: A weapon that Kratos took after torching a cursed soul in the underworld. They can shoot arrows made of fire.
Head of Helios: The head of the sun god himself. Kratos can use this to blind enemies on top of dispelling any invisible things.
Boots of Hermes: Boots worn by the messenger of the gods, Kratos can run great distances with these boots on top of being able to wall run.
Intelligence: Kratos was a Spartan Commander who won many battles, and has experience battling many peak human foes.
Weaknesses: Most of his feats are outlier, I can't stress this enough!
Notable Victories:
Notable Losses:
Spawn (Seriously, who thought in their idiotic minds, that Kratos would stand a chance against SPAWN!?!?!?!)
Inconclusive Matches:
Note: Inspired by this beautiful reply: Who tf thinks Kratos is 9-C